12 Corporate Christmas Party Ideas
If your corporate Christmas party needs a little refreshing you have come to the right place! We are bringing you some new and unique company holiday party ideas that will breathe life into your next event.
If you find yourself doing the same thing year after year your employees might be bored or even dread coming to the party.
Remember, a company xmas party is a time to bring everyone together and celebrate the year. It is supposed to be enjoyable and exciting! We hope these ideas will help!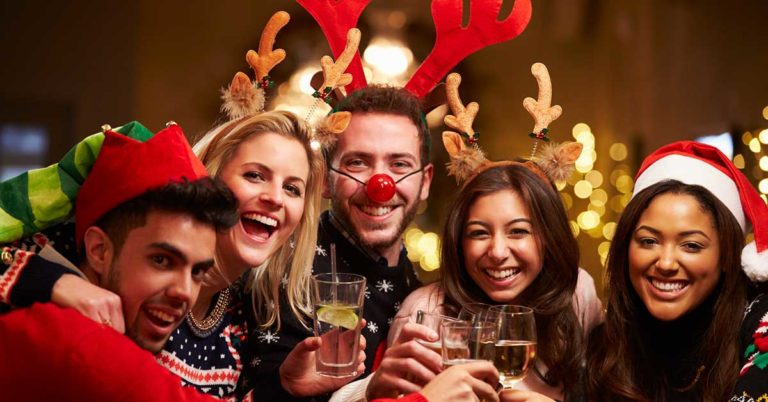 #1 - Celebrate The Xmas Season
A corporate Xmas party should bring everyone together, creating a stronger team. Keeping your party inclusive will unify instead of creating divisions. Also you may not know what holidays your team celebrates so this should not be a religious occasion in any way.
#2 - Break up the Party into Smaller Groups
If you are a large company why not make your gathering more intimate with this company Xmas party idea.
Instead of having one big gathering consider breaking up the party into smaller events for each department. This allows for attendees to really get to bond with their teammates.
Sometimes at larger parties, it can be hard to really get to know your coworkers because of the volume of people you need to say hi to and meet.
Departments could take this idea a step further allowing the team members to vote on what they would like the activity to be such as a painting party, bowling, or a night at a brewery. Letting the team have a vote creates a sense of ownership and excitement leading to the event!
Why not include the family with a holiday brunch or breakfast with Santa?
Making a daytime family-centric event will allow your employees to bring their whole family and enjoy making memories with them. Be sure to include plenty of activities for kids like a cookie decorating station, have Santa on hand, set up crafting stations, or even have baby animals.
Make sure your catering menu is inclusive for all your guests.
Talk to your venue about providing inclusion options to meet most dietary needs such as vegan, nut-free, and gluten-free options making sure everyone will be able to have a plate. Also try having a few vegetarian options, not only are they a safe bet for most, they are more sustainable.
Most venues will cater to dietary requirements if you give them enough time to provide them.
There has been a slow decline in drinking over the last several years. Research has also found that respondents in their teens and early 20s were drinking over 20% less per capita than millennials. And 64% of Gen Z respondents said that they expected to drink alcohol less frequently when they grew older than today's older generations do.
With this in mind, Mocktails are a great way to still have festive drinks without alcohol!
Another unique company Christmas party idea that is sure to be a hit is a tasting station.
Set up a themed station where guests can try unique offerings. This will be a great experience to remember the party by.
What you offer should depend on your crowd but some ideas we have liked recently are cheese, craft beer or chocolate.
If you have a great theme, set the scene with projection! Using projection mapping to enhance a scene creates an immersive experience.
For example you could create a winter wonderland and add things like projection snowflakes and cool tones onto the wall to make a white Christmas. A lot of venues are already decorated to specific themes or would go well with a certain theme.
#8 - Video or Slo-Mo Booth
Everyone loves a photo booth. I would argue it is a staple at company holiday parties. Everyone loves to gather in and take photos. So how can you take it past the expected and really wow your attendees?
Several ways!
With video on the rise a video photo booth or slow-mo booth will add an unexpected twist and bring life to your booth. Make sure to have props on hand like confetti that will play out beautifully in this format!
Also be sure that everyone is able to get their videos to bring home as a memory!
Take this company Xmas party idea one step further and compile all the videos from the night to share internally with your team or promote next year's party!
Give back to your community in some form during your corporate Christmas party.
Cutting a check and announcing a donation is an easy way to do this, but it lacks involvement. Instead, foster engagement and have your attendees help!
Set up a make a bear station to donate to a local kids organization, add a charity drive for a local homeless shelter and ask people to bring in blankets, toiletries and more for donations. Ask guests to bring non-perishable food items for a local food bank and have each donation become an entry into a drawing for a large prize at the end of the night.
A great experience is key to a memorable event. This company Xmas party idea allows for a hands-on and interactive experience that can double as a take away from your event. It's also a great way to give guests something to do.
Set up an ornament making station, DIY ink dyed coasters, or allow guests to build-their-own succulent garden. Attendees will bring these home and it will be a great reminder of the fun event.
#11 - Make Sure Your Event Has Meaning
Corporate Xmas parties aren't just a yearly obligation. It's a time to come together. Use your time together to send a message to your team.
You can touch on excitement for the next year, and recap some of the highlights of the last. 
Whatever you do be authentic and make sure your party embodies your core values and culture. And don't forget to keep it light and short, everyone will want to party, not listen to speeches all night!
The holiday season is busy enough and people's attention spans are shorter than ever. Keep your party fun and to the point.
A company Xmas party is not the place for a cocktail hour, followed by several course dinner, speeches and THEN activities. That is just way too long! 
2-3 hours is the perfect amount of time for your corporate Christmas party. Better yet make sure the party is something attendees can come and go as they wish.
Instead of having a long sit down dinner, appetizers and small plate stations throughout the venue allow guests to eat when they want and encourages mingling.
Keep your speeches short and make sure there are activities available from start to finish so no matter what time your guests arrive there is something to do!
Bonus Tip - Location Location Location!
Choose a location close to the office so it will be a similar distance to what your employees are already used to commuting to. This way the time it takes to get to the party will not become an obstacle for attending.
Hint hint, The Med Sydney is the perfect venue for company Christmas parties. Located in Surry Hills on the renowned Oxford Street, your team will have no problem locating us.
Corporate Christmas Party Ideas – That's a Wrap!
There you have it the most refreshing company holiday party ideas for you to implement at your next Xmas party.
From all of us here at The Med Sydney, we hope this post has helped you in planning your next event. Also we wish you a very Merry Christmas & Happy New Year!
Check Venue Availability, Package Options & Prices
Book ahead to avoid dissappintment. Contact our friendly team now to discuss your requirements.