Christmas is a wonderful time of the year, and at The Med Sydney, it's one of our favorite holidays. The atmosphere, the lights, the music, it's all very magical. Not to mention it is also the silly season.
Throwing a Christmas Party is the perfect way to celebrate the end of the year, and all your accomplishments. Whether you're planning a work Christmas party or a social event for your friends, we've got you covered at the Mediterranean Sydney.
Planning a Work Christmas Party? Need Ideas or a Venue?
Ok, so you have a work Christmas party to plan. How do you make sure that it's perfect, enjoyable, and creates long-lasting memories? Trust The Med Sydney to help you take care of it, of course.
We know how stressful planning a Christmas Party can get, which is why we've come up with the perfect solution for you. The Mediterranean Sydney provides you with the ideal venue, be it a work party or a personal one, we're here for you.
But we don't just give you a venue, at The Med Sydney, we also provide you with an entire event. Specifically we provide dining, entertainment and everything you need for an absolutely splendid party.
From the cuisine, drinks menu, to the entertainers, and all other ideas that you'll need to make your Christmas party one to remember.
Look no further.. The Mediterranean Sydney is the place for you.
Sydney's #1 Christmas Party Restaurant with Entertainment
Offering a fully licensed bar, restaurant and function centre, we'll help you keep your staff happy and entertained this Christmas.
The Med Sydney provides a variety of great food and menu options, awesome entertainment, all at an amazing Sydney venue. Catering for all company sizes from small to large. We comfortably sit and entertain over 300 patrons.
Don't be stuck for ideas this Christmas. Instead wine, dine and throw a party your team will be talking about for years to come. Leave the fuss out of your work Christmas party plans this year with The Mediterranean Sydney.
The Med Sydney Christmas Party Packages
As we have mentioned, The Med Sydney is a flexible events venue, offering a fully licensed bar, restaurant and function centre. We provide all your Christmas party dining and entertainment needs.
While we can create a custom event just for you, we also make handling your Christmas party even easier with our Christmas party package as outlined below.
Your evening starts as you enter our venue. As you arrive you are greeted by our Maitre d, who will show everyone to their tables.
Once settled, your entree of dips, cruets and breads will be served to your table.
Then you will all feast on a sumptuous Christmas Buffet Carvery featuring all of your Christmas favourites. This includes Free range Turkey and Honey cooked ham.
You can rest assured that everyone will have plenty to eat. Also all dietary restrictions and food allergy sufferers will easily be catered for.
Now that you are relaxing, it is time for your entertainment.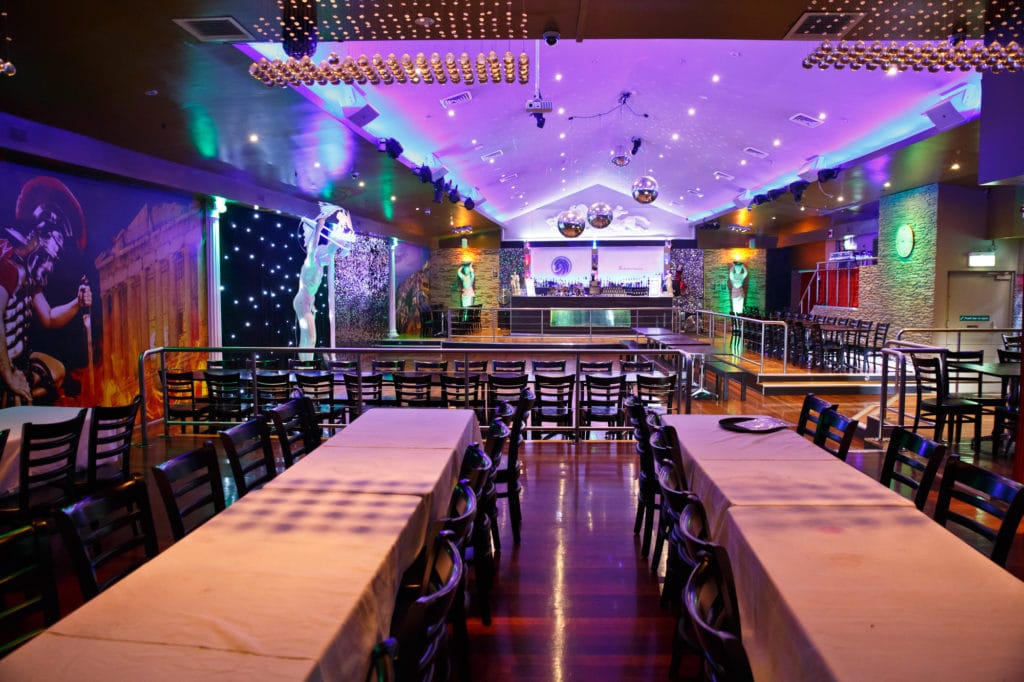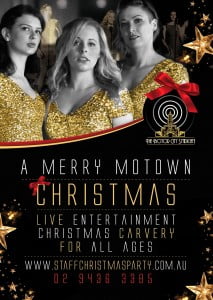 Voted Best live band for corporate events 'The Motor City Syndicate' is a collective of Sydney's most sought-after professional musicians. This band deliver in fine style.
The genre of Motown, Soul and Funk offers everything from passionate love ballads to pumping dance anthems, and we can groove with them all night.
Our sexy, sultry soul trio will get you dancing in the street to the heartbeat of Motown Soul.
Backed by the funkiest funk brothers around, The Motor City Syndicate gets your feet tapping, your chest thumping and your party swinging!
With a little bit of love and emotion from the likes of Stevie, Marvin and Aretha, combined with the awesome energy of The Four Tops, Diana Ross and The Jackson 5, this electrifying 7-piece band will have you moving well into the night.
Ideal to please everyone in the office, wrapped up in a special Christmas packages, just for you.
All this for only $69pp including dinner and show. Or $104 including dinner, show and drinks package.
Check Venue Availability, Package Options & Prices
Book ahead to avoid dissappintment. Contact our friendly team now to discuss your requirements.